When considering a bridal hairstyle for your big day, you should make sure that your hair matches your dress; and also that it works with the jewelry you're planning to wear. Not only does this perfect your bridal look but it helps to make your jewelry choices even more striking. The ring hairstyle and matching jewelry together make a stunning statement and will enhance the beauty of you and your dress on your special day.
Match Your Metals
If you're wearing a bridal hair accessory, such as a tiara or a sparkly hair clip, you need to be sure that it doesn't clash with the metals in the rest of your jewelry. Try to match the metals that you are wearing so that your overall look is sophisticated and polished. If you are wearing silver or platinum rings that work wonderfully with your ivory bridal gown, you might put your gorgeous look in jeopardy by flashing a bright gold hair accessory.
However, there is still room for creativity. Silver and platinum work well together, and both look dazzling with diamonds While the various types and colors of gold look great together. Rose gold is often a safe choice as it can be a complimentary color to all the other metals, looking especially striking when teamed up with yellow gold or can bringing warmth to platinum. If you have pearls included in your jewelry, matching pearls with your hair accessory looks exquisite.
Choose Flowers According to Your Jewelry
Wearing flowers in your hair is big a bridal fashion trend this year. Large white flowers can be elegant while smaller colorful flowers add romance and whimsy to bridal hairstyles. Some great ideas include clipping small flowers or baby's breath into braids and plaits, or clasping a larger flower on the side of your head and wearing your hair in a sophisticated bun. Consider your jewelry before picking out flowers for maximum effect.
White flowers look opulent when set against diamonds and silver; while yellow tones complement gold jewelry. Gemstones come to life when you are wearing colorful flowers. Try to stick to the similar shades of same color, though. If the gemstones on your ring are rubies or sapphires, try wearing the same colors of flowers in your hair.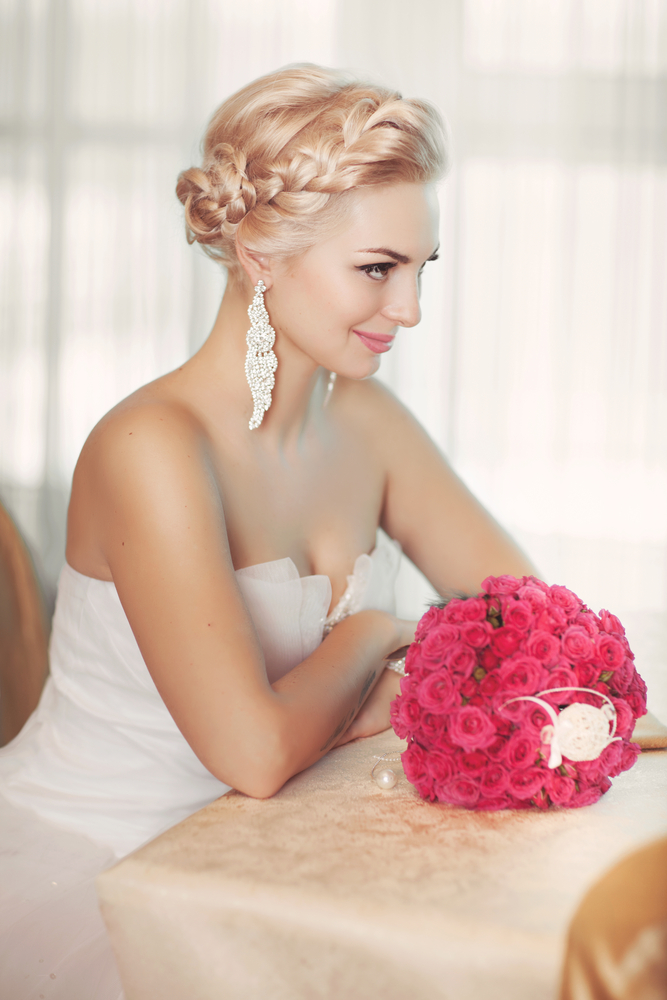 Show off Your Jewels
You don't want your hairstyle to get in the way of your beautiful jewelry making a statement for you, so consider wearing your hair over a shoulder in a side-swept style if you want to show off earrings and necklace statement pieces. A half up-do also works well for this look.
If you want to have your hair down instead of up, opt for having sections in front pulled away from your face to display your jewelry while still enjoying a long look at the back. You could create plaits in front that are then pulled back around your hair or have pieces in front volumized and back-combed and accented with a jeweled clip.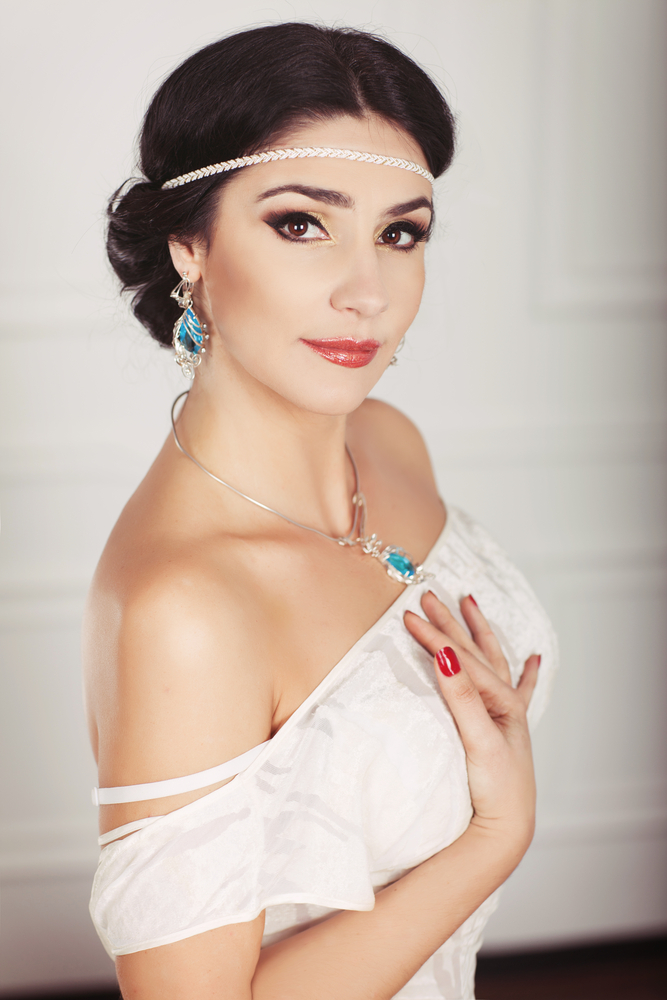 What's Your Style?
Bridal hairstyles should complement the style of jewelry worn together otherwise the overall look risks looking awkward. If your hairstyle is trendy with a voluminous side-swept ponytail or messy bun, you don't want jewelry that is too demure or classic. Rather choose a piece or two to bring in that modern flavour. Examples include decorative pendants or bohemian-inspired jewellery. On the other hand, a
Grace Kelly hairstyle
will look great when teamed with a vintage ring or hair accessory.
Consider the style and era of your jewelry
and then find hairstyles to make a stunning match with it.
By making sure your hair complements your jewelry, all the elements of your appearance will come together to make you a stunning bride.